Supporters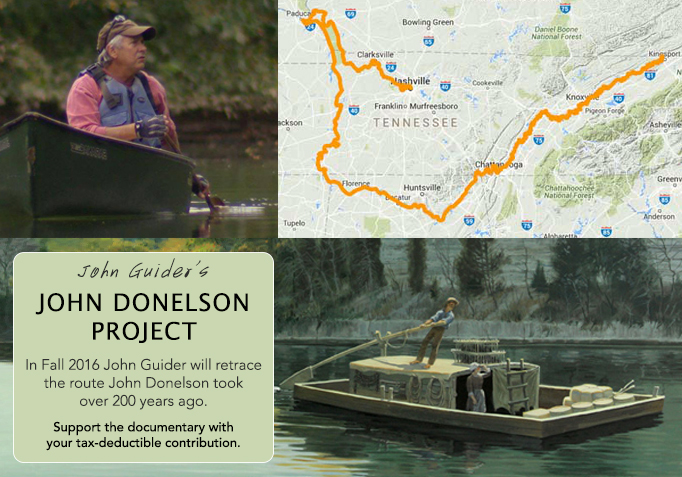 John Guider's journey through parts of the Tennessee Valley river system will be the thread for an incredible special, one that explores both the history and modernity of the region and that celebrates its incredible natural beauty. Including still and live action, the film will start at Kingsport and move alongside John as he retraces the pioneering river journey that brought about the opening of the Tennessee Valley.
The documentary will in part elucidate the history of the region, using stories handed down through generations to capture the journey of faith and survival that Donelson and his party undertook. As John passes through urban centers and intricate lock systems, the film will also reveal the explosive growth and prosperity that have characterized the region since its recovery from the Great Depression. Using photographs and art to juxtapose and connect the current landscape to the frontier wilderness that Donelson would have encountered, the film will also utilize interviews with relevant authorities — civil engineers, historians, environmental experts and political leaders — to further educate the public about the vital role the rivers have played throughout the development of the region and the role they continue to play in our daily life.
While paying tribute to the impressive progress in the region, John will also capture its enduring natural splendor and the spiritual rest that the riverways bring to the local people. His photographs are breathtaking and give testament to the abiding beauty in the region amidst its explosive growth over the last century.
We are delighted that a public television station has enthusiastically agreed to partner with us in the production and distribution of this documentary. Now, we are asking for your financial support. Due to the uniqueness of this historic project, the documentary has been proposed and budgeted in the amount of $200,000, in addition to an interactive website, book and book tour, and traveling museum exhibit.
If you would like to know more about how to support this project financially with a tax-deductible gift, please contact:
Robinson Regen, Project Consultant
615.604.5655 or robinsonhregen@gmail.com
OR
Checks may be made out to Cumberland River Compact** and mailed to:
John Guider/John Donelson Project
c/o Cumberland River Compact
2 Victory Ave Suite 300, Nashville, TN 37213
**Please make sure check has John Guider written in the For line.
All gifts are tax deductible and greatly appreciated.
Much gratitude to Backer's of John's 2011 Great Loop Kickstarter Campaign:
Andee Rudloff
Al Thomas
Alan Teller
Andrew Maraniss
Bonnie Beneke
Cathy Pallardy
Chuck and Emily Beard
Claudia Schenck
Deborah & Bill Trimble
Emily Naff
Faith St. Clair
Frank Hargrove
Gary R. Haynes
Gary K. Winterbauer
Heather Kirksey
James and Lorie O'Brien
Kay Ramming
Laura Miller
Larry Frankenbach
Leisa A. Hammett
Libba Miller
Lisa & Ken Spradley
Lynn Vincent
Mark Hosford
Mark Johnson
Mary Ann Weakley
Merwin Ullestad
Mickey & Ellen Flood
Nick Dantona
Neil Calore
Patty Shultz
Robert McCurley
Sara Rounds
Shawn Goodwin
Stacey Irvin
Steve Hagewood
Susan Carlisle
Suzie Rudloff
Tal Howell
Terri Jordan
Timothy Princehorn
Tom Rogers
Vaden Lackey
Wendy Whittemore